Contact Us
Please contact us about any questions or specialty items. We love feedback as well. You are our top priority and we will always do everything we can to make your shopping experience unlike any other today and much more like the days gone by when people treated people right simply because it was the right thing to do!
Indy Hammered Knives
11220 East McGregor Road  
Indianapolis, IN 46259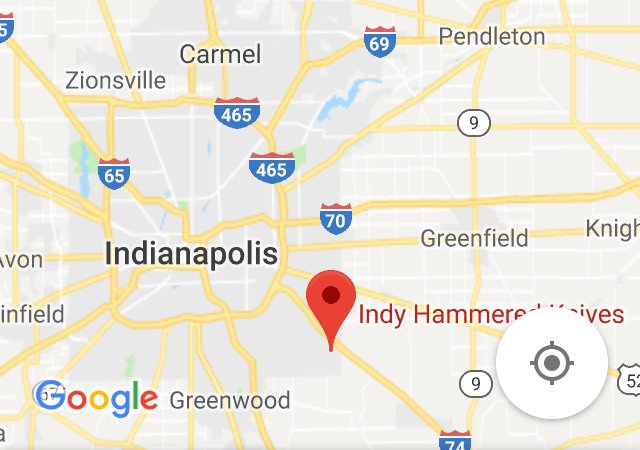 Click the link and let google maps bring you right here......
Open Shop Hours Are:
Tuesday - Saturday
9:00a.m. - 5:00p.m.
Closed Monday and Sunday
(This shop is a working "Smithy" (the shop where a "Smith" works) and as of yet do not have a store, store, but if you want to stop by to see the process or look at some finished knives / products, just give me a call or shoot me an email and I would love to show you around.) Its nothing fancy but is the original gas station built in 1900 in a small little town just down the street from my house in Acton, Indiana (an old burg still inside Indianapolis).
317-513-0857
IHKnives.com
or
jamesc.wahls@gmail.com