Indy Hammered Knives
 Knife Academe 
and

The Indy Forge
Knife Academe
We began teaching our knife making and blacksmithing classes in 2019.  The idea was forged into reality with the help of a dear friend, Heath Gibson who was relentless in planning and creating an experience that was something to never be forgotten. Although Heath did indeed lose his battle to a rare stomach cancer he developed from 2 tours in Afghanistan, while serving our Great Country, he did see his dream come to a reality for the first 2 years. Little did he know how popular and how far reaching these classes would be.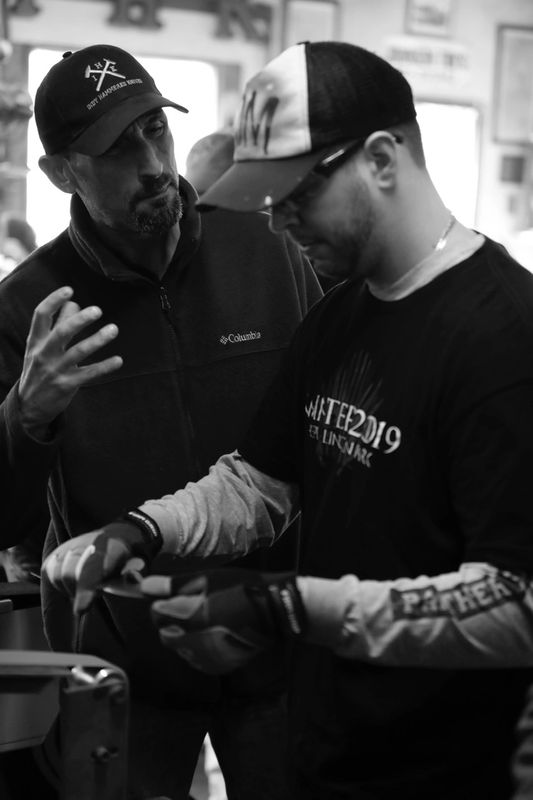 We have taught over 750 students (as of 2022) from all over the country and beautiful knives and even more beautiful memories have been made by all of the amazing students over the years. We continue to make this an amazing experience from the time you purchase your class to your finished knife. We have refined every single element of the process to make this experience not only achievable, but one that will build your confidence in working with your hands and hopefully will ease your process into the Craft of Knife Making.  
World Class Facility
Our 3,000 square foot teaching facility is only 20 min from downtown Indianapolis, but feels like you are out in the Country with a large wooded property and a very small town type feel. 
WE SPARED NO EXPENSE!!!! We have the best of the best in all the equipment that we have intentionally selected so that your experience is not ever a burden, as good tools always make for a better build. We have limited class sizes (6 students per class) so that you always have your own space, i.e. You will work in your own forge, own anvil and your own 2x72" grinder. Stations were designed in order for you to have your own personal space in order to stay focused on your work as well as keeping you safe. Having your own space is also critically important to find your focus, as this is a rarity these days with all the distractions we deal with on the daily in the world we live in. 
Knife making and Blacksmithing is a very spiritual experience as we are forging hot raw materials into something purposeful. Our small classes and personal working space is important as waiting in a line and feeling the pressure of other students waiting and watching could be anxiety producing and tiresome. That will not be the case here. We want you to fully enjoy the process and enjoy the space of no distractions while you work. 
Master Craftsman Instructors
The Indy Forge Membership Program